Antony Gormley – Brings his own SIGHT on the sacred island of DELOS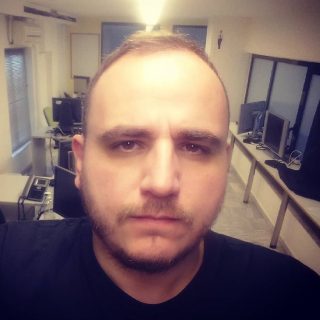 Κωνσταντίνος Μπουγάς 7 Αυγούστου 2019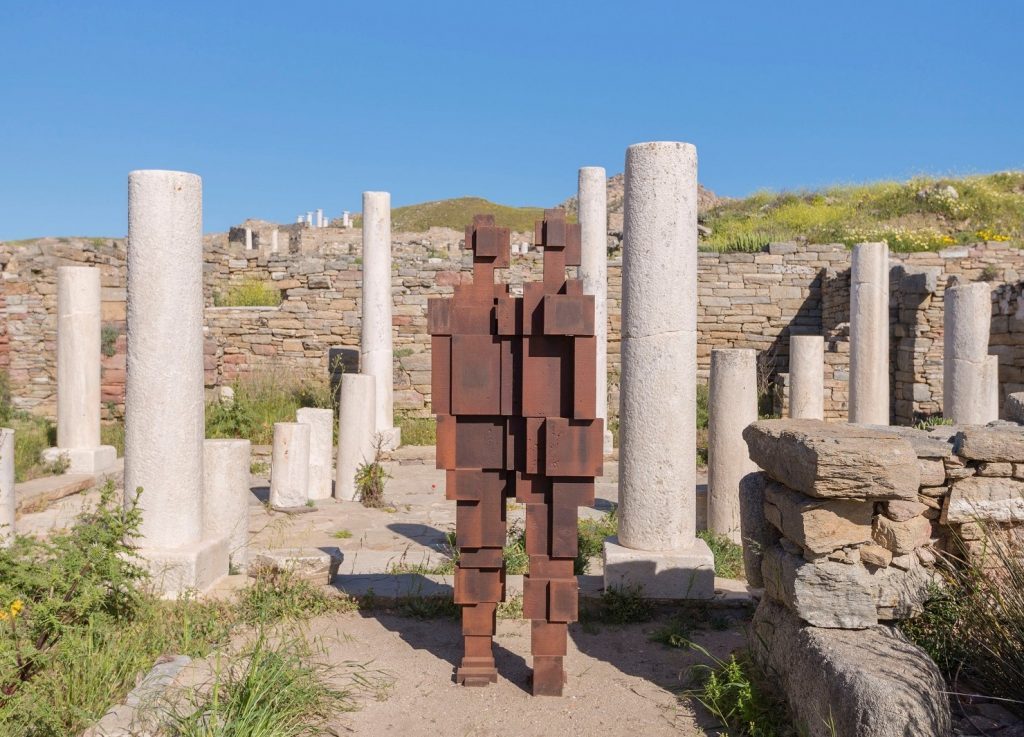 The artistic «repopulation» of Delos with sculptural iron bodies has just begun!
There is a first time for everything, even for the acclaimed British artist Antony Gormley to bring his art to an island that was around even when the whole world was at a primary stage. On the ancient Greek sacred isle named Delos where Apollo, the god of light and his twin sister Artemis, the moon goddess, were born. Right here in the heart of the Aegean in the 9th century BC, one of the greatest sanctuaries but also an important commercial centre between East and West, North and South emerged. Today, the remains of temples, altars, sculptures and votive offerings have been stepped by hundreds of people visiting from the nearby party island of Mykonos.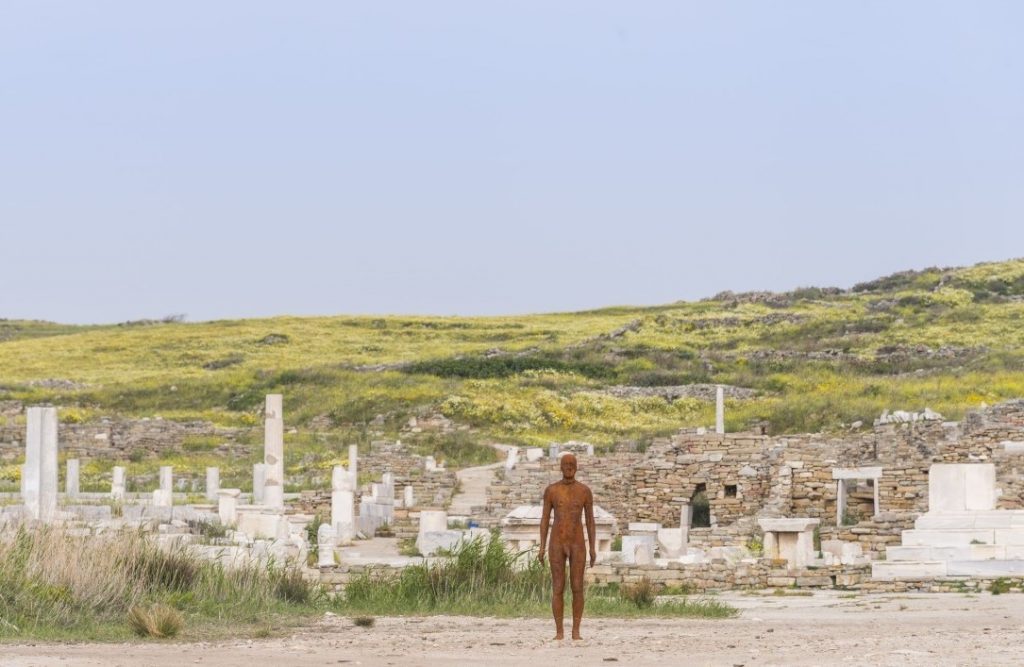 The renowned sculptor marks the historic first time of an artist taking over the archaeological site of Delos, since the island was inhabited thousand years ago. It is the first time a contemporary art installation has been approved by the Ephorate of Antiquities of Cyclades in collaboration with the non-profit organization NEON, to take place in this -many ways- sacred place. SIGHT is specially conceived to resonate with the statuary, temples, squares, vistas and the topography of the island of Delos.
In the installation Sir Antony Gormley repopulates the island with 29 iron "bodyforms", restoring a human presence and creating a journey of potential encounters. His sculptures with their naturalistic, cubic or more abstracted forms were made during the last twenty years, including 5 specially commissioned new works, both at the periphery and integrated amongst Delos's archaeological sites.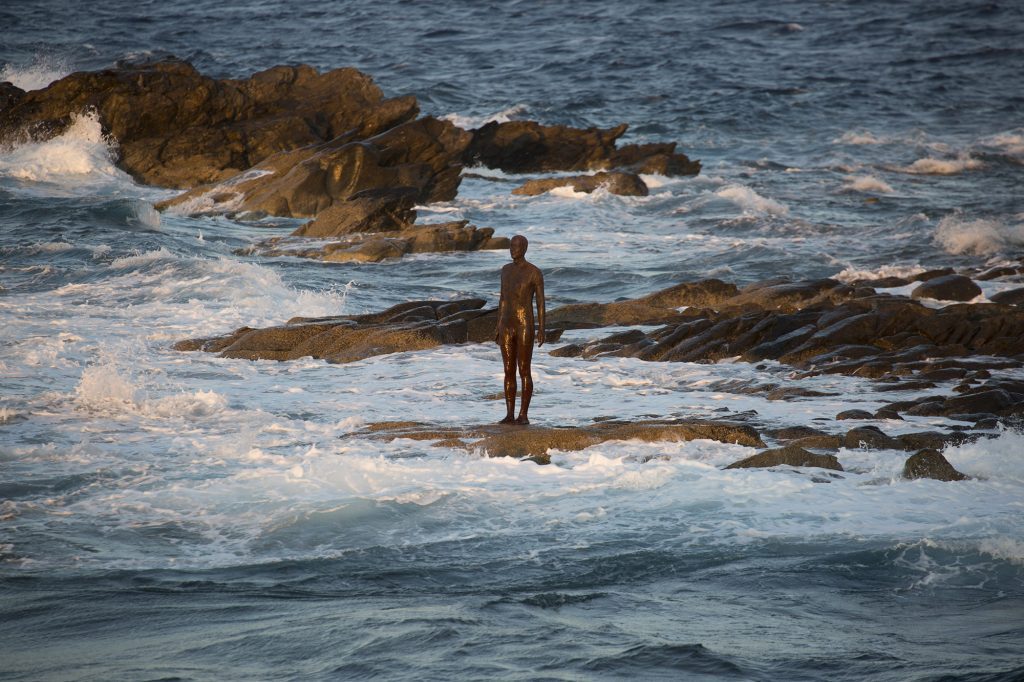 One of the bodyforms even… greets visitors arriving from Mykonos. On a rock at the water's edge stands a dark figure, gazing firmly on the horizon. An almost ironic answer to the island where light was born.
Antony Gormley / SIGHT
On the sacred island of Delos, Greece
On view until 31 October 2019
Διαβάστε περισσότερα στο DELUXE magazine που κυκλοφορεί δωρεάν σε επιλεγμένα σημεία, ή πατώντας ΕΔΩ.
Σχετικές αναρτήσεις
Έκθεση Costas Picadas:"Finding the ties between science and nature"!
Φιλανθρωπικό Δείπνο «ΜΗΤΕΡΑ, ΓΥΝΑΙΚΑ, ΕΡΓΑΖΟΜΕΝΗ» από την Lifeline Hellas !
Ένα βιβλίο για τα μικρά βήματα που μας οδηγούν σε έναν καλύτερο κόσμο από την ΙΚΕΑ!
OPEN STUDIO ART DAYS: "DREAMS FOR YOUR WELLBEING" στο studio της Λίλας Κουφοπούλου!
Λαμπερά εγκαίνια για το πρώτο κατάστημα του οίκου Molton Brown στην Ελλάδα!
Πολυξένη – Κυκλοφόρησε το νέο βιβλίο της Πένυς Παπαδάκη