Chris Athanasiadis: Cuisine's hierarch
Κωνσταντίνος Μπουγάς 2 Αυγούστου 2018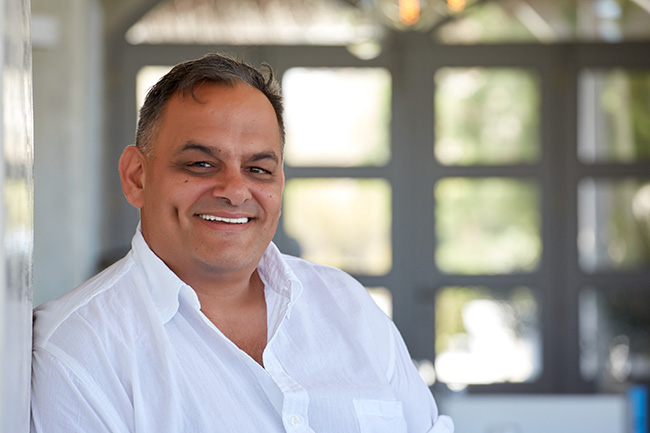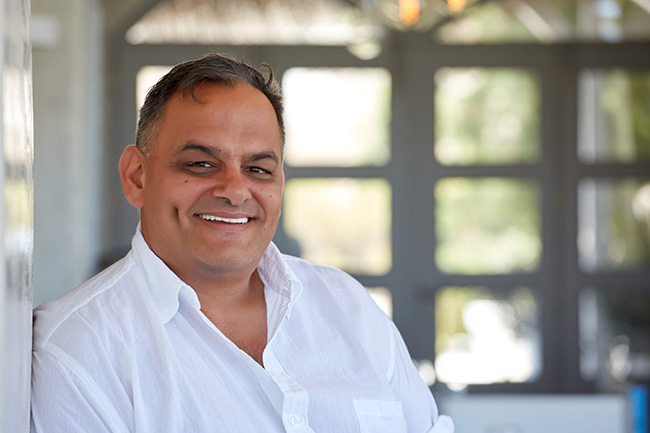 His passion for gastronomic triumphs is similar to this of having new starts over and over again. After the successful opening of the luxurious beach club, SantAnna Mykonos, in summer 2017, Chef Chris Athanasiadis and his long-tern partner Dimitris Christoforidis of Nice n Easy group, came up with Spala restaurant at the heart of Mykonos town. Would you go for the turf or the surf side of the menu? The choice is yours!
You constantly try new things on restaurant business. Last year it was the fantastic SantAnna Mykonos beach club, this year is Spala. Where do you find the energy for all these new steps?
The truth is that some of the new things we do as the team of Nice n Easy, such as Spala, happened due to the circumstances and not because we wanted a new restaurant in Mykonos. We were looking for a new idea in the same spot we had the nice n easy gluten free restaurant last year, that would be quite different from the nice n easy organic sea food restaurant right next to it. So Spala came up.
How different is Spala from the rest Nice n Easy restaurants?
It is the first restaurant inspired by the surf and turf philosophy, serving quality meat and fresh fish and seafood, offering even more options that combine both. On the surf side one can find lobster and fresh fish of the day, while on the turf side there is excellent quality organic meats in various cuts and special techniques such as picanha or tagliata.
Do you prefer the surf or the turf side and for what reason?
I personally love the turf side more, because it has more complexity in textures, cuts and new techniques that give another dimension in flavour and the use of raw material.
The reviews of your gastronomic creations are always good. Is there one you remember the most?
I'm always glad for the good reviews but I feel that the bad reviews help me and my colleagues to become better. However, I will always consider our customers' reviews the most important ones. The best review I get is when our customers praise the fact that after a rich meal they have a light stomach and a feeling of excellent digestion. For me the best proof of good raw materials and their proper use in a kitchen is how easily one can digest his food.
In an international destination like Mykonos what cuisine dominates?
The Greek one, even more the local cuisine is of great interest to the visitors of the island. This is because, when in a new county, an island etc, a tourist is interested in getting to know the place through gastronomy.
Will Mykonos keep on inspiring you over the next few years?
Definitely! Mykonos has a great business interest because it is a powerful tourist product and its visitors from all over the world are special. It delivers lessons of how to provide good services and hospitality. Many other destinations in Greece would have so much to gain if they followed this pattern at the level of services. The island has enormous revenue that is gained after hard work and in our way we put a small stone in this endeavor.
There's this opinion that Mykonos is another… planet compared to the rest of Greece. What are your thoughts on that?
Of course the island is a different place in comparison to the rest of Greece. I wish many of its parts could provide similar amenities and services in the organizing and infrastructure of tourism. Many countries in the world have a specific place that attracts most tourists. For Greece, Mykonos stands out.
How do you think tourism in Mykonos will be in the coming years?
The tourist trend for the next five years is the increase year by year of higher income visitors, and this is proved by similar to Mykonos destinations such as Ibiza, Porto Cervo and Monte Carlo.
Will you find some time to rest during this summer?
For many years now summer it is not a period of rest. It is the most intense period for our job. But I believe that during winter, no matter what our next steps are, we could have some time to relax with our families.
Σχετικές αναρτήσεις
Λαμπερό Opening Event για τη boutique Themis•Z
Two-sided paradise
Evangelos Tsoukalas: The sparkling designer
Nice n easy organic sea food
Nesaea: Γεύση… μυθική
"Υψηλή" μόδα στη Μύκονο