Chris Athanasiadis, The King of Chefs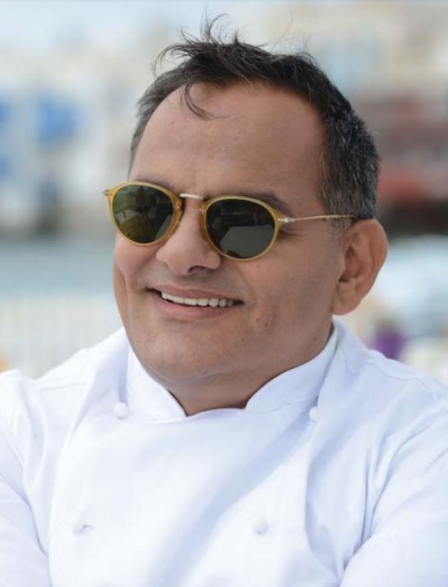 It seems that he's excellent cooking skills and his talent really came in hand when he decided to boil up the gastronomic scene of Mykonos. At first it was Nice n Easy, then the organic-friendly Nesaea, and this summer the all-new, extravagant multi-experiential beachfront retreat of SantAnna. He definitely brings the best tastes and lots of fun to this… Cycladic wild child!
By Konstantinos Bougas
How different is Nice n Easy's menu this summer?
Nice n Easy has debuted a new seasonal menu, always trying to keep the unique flavors and organic, farm to table identity. Planning a new menu is always an exciting for us and it's a great opportunity (and challenge) to experiment with different flavors and techniques as well as update traditional favorites. Keep in mind that summer time means that fresh produce is plentiful.
Nice n Easy has been a huge success despite the quite… competitive restaurant scene of Mykonos. Why do you think this happened?
We have always tried to showcase the delicious and bountiful Greek organic ingredients while bringing a lighter version to many menu items.
Since 2016 you're the chef and the co-owner of Nesaea restaurant as well. How different is Nesaea from Nice n easy?
Nesaea is our newest addition, offering a more high-end gastronomic experience. It is located in Aghia Anna beach, in Kalafatis, providing a creative approach to the Greek island cuisine, by using the finest farm-to-table ingredients and the best raw materials the island has to offer.
Your new project SantAnna at Paraga just opened its doors. How do you feel about it?
SantAnna is an upscale beach resort offering many services, from spa massage, luxury sunbeds under the warm Mediterranean sun as well as a new gastronomic experience, while focusing on the quality of our cuisine and the ambience of our facilities. We want every customer to be excited with their experience over all.
What do you consider the top moment of your career?
Definitely the European Business Awards and SantAnna opening both this year.
If you had the chance to use just one product from Mykonos in your menu, what would that be?
Difficult question… there are so many fresh, local products found in Mykonos. From the homemade sausages to louza and the excellent seafood… It's impossible for me to decide!
In your opinion what is the true taste of Mykonos? Is there something that a visitor should definitely taste?
Nothing says Mykonos quite like the excellent and famous kopanisti cheese, a soft spicy cheese made of a mixture of goat's and cow's milk.
Has Mykonos scenery been an inspiration for your recipes and dishes?
Undoubtedly. Here the fresh ingredients are easily found. I feel connected with what's going on in the nature, edging me out of my comfort zone and expose myself to new things I haven't tried yet.
What is your favorite place of Mykonos and for what reason…
I love Aghios Sostis. There's a large, sandy beach with no umbrellas, no sunbeds or beach bars. I like to visit this place with my family. Pure tranquility.
Is there a Mykonos-related motto that represents you?
"Mykonos is the epicenter of the Cycladic wild child" that is also the motto of our SantAnna venue!
Σχετικές αναρτήσεις
Η Πριγκίπισσα Αικατερίνη κοντά στα παιδιά της Στέγης Ανηλίκων Πειραιά «Καλός Ποιμένας»
Διεθνής Διαδικτυακή Επιστημονική Συνάντηση «Covid-19 and Childhood Cancer»
Το Ξενοδοχείο Μεγάλη Βρεταννία φωταγώγησε το χριστουγεννιάτικο δέντρο του! (videos)
Οι καινοτομίες ηλιακού φωτισμού της Signify… αλλάζουν τους Λειψούς
Το ίδρυμα «Μαριάννα Β. Βαρδινογιάννη» στέλνει το δικό του συμβολικό μήνυμα δημοκρατίας
NJV Athens Plaza – Βραβεύτηκε με το «The GIFTTS 2020 Pineapple Award»