Costas Papachristophorou, The haute hotelier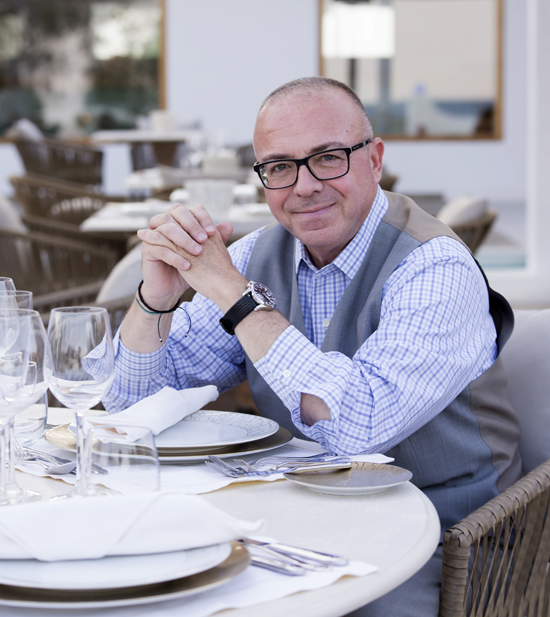 After a successful career around the globe, the greek Cyprus-born hotel manager does his best to make one of Mykonos' legendary hotels, Aphrodite Beach Resort Hotel, great again. It's not an easy task, but surely only he can make it!
By Konstantinos Bougas
How connected do you feel with Mykonos?
I visited Mykonos for the first time in the 80s when I was a teenager. Since then, even if I didn't live in Greece, I went to the island 2-3 times every summer, avoiding usually August.
This long lasting relationship, almost love affair lasts for more than 37 years. Nowadays I live in Mykonos not just as a "summer visitor", but as a professional member of the island's great hotel family.
What did the island itself revealed to you over time?
The island itself is a unique revelation. Its beauty is timeless and certainly not for everyone. Nevertheless in the course of time, it changes shape, creates new images, paints with new colours, produces and highlights new trends with a global appeal!This year, that I live the island daily as a professional, it reveals to me more of its "weaknesses", than its grace and strengths, those that have made it a world-class destination. Surely the sections of social and tourism infrastructure need great improvement.
Does Mykonos worth every anticipation or difficulty you may have experienced?
Yes, it is definitely worth the wait and the difficulty, if this beautiful island rewards you in its own way at the end. Of course this is completely different for each person…
How do you see Mykonos in 10 years from now?
I hope it does not change dramatically from what it is today, although I have serious personal doubts about it.
Mykonos is definitely a cosmopolitan island with extremely high demands from its different visitors, that come from all over the world to enjoy it. But it's still an "original" Cycladic island with unparalleled natural beauties that must be protected and preserved. This is part of its unique character that makes it stand out.
Why is Mykonos the ideal location for a job like yours?
I have practiced the General Directorate of many hotel groups in Greece and abroad. Mykonos is really an ideal and special destination! It unfolds all the aspects of hoteling to the maximum, a deal that each professional is asked to serve and honour accordingly. Hotel infrastructure, quality services, high gastronomy and tourism culture with the latter still falling to a great extent. The upgrading of all this together is a challenge for any professional.
What are the challenges you have to face today?
I referred earlier to challenges… My personal challenge, my bet today, is just to revive and bring Aphrodite Beach Resort Hotel back to its original position. A hotel that carries on its shoulders half a century of history with past images of glory and glamour from its famous visitors, that over the years faded. We have already begun with the first and most important step by manning our group with absolutely new and highly professional staff, creating new gastronomic faculties of high taste.
For you, what is the best time of the day?
For me is a quick glance at the cool sunrise from the beach of Kalafatis, in front of our hotel. A carefree evening walk in the alleys of Chora… Small, common pleasures with enormous return!
What a Mykonos first-comer should do?
To respect Mykonos itself and its ancient "neighbour", the island of Delos. To respect the beautiful environment and the golden beaches. To adapt to its particular character. To get lost in the streets of Chora and, of course to enjoy the unique gastronomic experiences of global reach it has to offer.
What part of the island do you consider as your shelter?
"Shelter" for me personally is every moment of serenity that overwhelms my soul. This can happen on the quiet beach of Lias, or even at a busy spot in Chora. "Shelter" is just the personal balance and tranquility of my feelings.
What is your personal motto?
I have been to Mykonos after I gave myself an important promise. Not to erase or change my professional aspects and the identity that I have established in the last 30 years with so much work and psychological effort. So I'm trying to do what I have learned over the years. Do something perfectly or don't do it at all… At first trying to impose the quality of the hotel's services, and then that of the premises.
Σχετικές αναρτήσεις
Η Πριγκίπισσα Αικατερίνη κοντά στα παιδιά της Στέγης Ανηλίκων Πειραιά «Καλός Ποιμένας»
Διεθνής Διαδικτυακή Επιστημονική Συνάντηση «Covid-19 and Childhood Cancer»
Το Ξενοδοχείο Μεγάλη Βρεταννία φωταγώγησε το χριστουγεννιάτικο δέντρο του! (videos)
Οι καινοτομίες ηλιακού φωτισμού της Signify… αλλάζουν τους Λειψούς
Το ίδρυμα «Μαριάννα Β. Βαρδινογιάννη» στέλνει το δικό του συμβολικό μήνυμα δημοκρατίας
NJV Athens Plaza – Βραβεύτηκε με το «The GIFTTS 2020 Pineapple Award»