Despina Gavala, The beauty fairy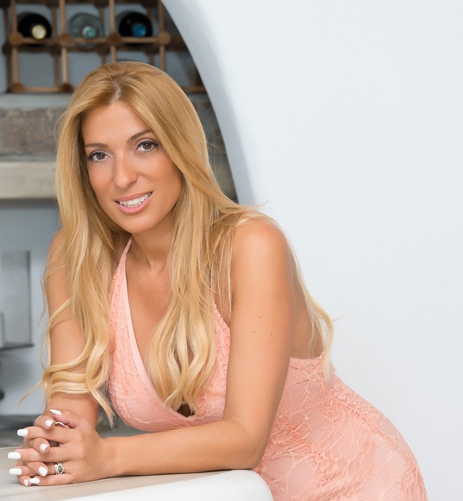 She doesn't hold the sceptre of beauty by chance. Despina Gavala, owner of Beautyworld Mykonos and Kifissia, knows all the beauty secrets, shares all her knowledge, expresses her love for the island of the winds!
By Konstantinos Bougas
In what way did Mykonos inspired you to open up one of the most successful beauty salons of the island?
I instantly loved this island when I first stepped my foot on it 20 years ago. The white of the houses and the marvelous architecture made me fall in love with it. To stay and open up my own business in Mykonos was a challenge and a bet with myself, that happily went really well!
When women are in holiday mood do they feel more beautiful and careless? Would you vote for girly or posh?
As everybody else, women on their holiday are certainly more relaxed but this does not prevent them from treating themselves. At least in my Mykonos stores I see that women take care of their nails, their hair, their body and face with creams and moisturizing therapies that are definitely more in need for the summer. For this sunny season, I always voted for casual and youthful style.
In your opinion, Is Mykonos more of a Stepford wives' look kind of island, or boho/chic?
Mykonos can't have a certain label, it includes everything it its wonderful mix. A beautiful island that to me offers its guests the best and the most complete services they can ask for. The elite of the whole planet doesn't come to the island by chance. So it's clear that it cannot have a specific style, since its visitors are from all over the world with different nationalities, religions, cultures, tastes and economic status. Maybe it's this combination that makes it so unique.
Many celebs have been to Beautyworld Mykonos. Who of them do you consider as trend-setters?
For me, all of my customers are unique and I treat them this way. Each one has its own style that determines his personality. Everyone is a fashion inspirer.
What are your beauty secrets so that we always look beautiful not only in Mykonos but everywhere?
There are no secrets! The first and most important is a good mood and a huge smile. People that smile are the most beautiful. Of course, to take a good care for ourselves and try to look our best is what really makes the difference.
What are your wellness and beauty tips for the summer of 2017?
Light hair, wet look and braiding and intense nail colours are the best for the summer. The makeup is also light in earthy shades, that will highlight your tan.
Why do you think Beautyworld services stand out?
Since the first day Beautyworld opened it became a trademark of the island because of its diversity. Its guests could find and do everything they wanted, since all the top professionals (hairdressers, nail technicians, aesthetics, masseurs, trainers, nutritionists, make up artist) are among its staff. This was so convenient for all our customers, because in one place they could meet all their needs. Our stores also collaborate with the best fashion designers (Vlassis Holevas, Olga Karaververi, Helena Kyritsi), jewelers (Patseas), and other companies that make it so much easier for our customers to do their shopping or buy gifts at the same time.
Beautyworld has also been an art space. How did this idea come up?
Beautyworld is now a multi-concept place, almost a paradise for every visitor who, in addition to all the other services, can make their own shopping. However, because we want to evolve and since our 500 sq.m. space in Drafaki, Mykonos, allows it, a year now we have been collaborating with Thessaloniki's largest gallery Myro Antiques House by Stavros Myronidis and we exhibit works and sculptures of renowned Greek and foreign artists for sale as well. After all, art and beauty always had been connected in a way.
What is your favourite place in Mykonos and for what reason?
There are so many! Depending on the time, the mood and -of course- the people. For swimming at SantAnna in Paraga, from morning till late at night. For a nice coffee at BLU BLU overlooking the Chora of Mykonos and for special evening meals at Kiku or Natura. As For clubbing definitely Cavo Paradiso, the most famous club on the island.
www.despinagavala.com
Σχετικές αναρτήσεις
Η Πριγκίπισσα Αικατερίνη κοντά στα παιδιά της Στέγης Ανηλίκων Πειραιά «Καλός Ποιμένας»
Διεθνής Διαδικτυακή Επιστημονική Συνάντηση «Covid-19 and Childhood Cancer»
Το Ξενοδοχείο Μεγάλη Βρεταννία φωταγώγησε το χριστουγεννιάτικο δέντρο του! (videos)
Οι καινοτομίες ηλιακού φωτισμού της Signify… αλλάζουν τους Λειψούς
Το ίδρυμα «Μαριάννα Β. Βαρδινογιάννη» στέλνει το δικό του συμβολικό μήνυμα δημοκρατίας
NJV Athens Plaza – Βραβεύτηκε με το «The GIFTTS 2020 Pineapple Award»