Elina Kantza, The Dew-chess of Mykonos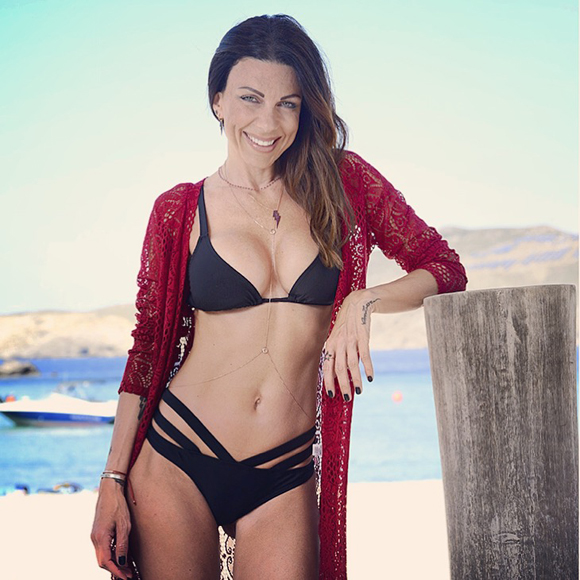 She's not just a beauty. Not just a celebrity of her own. She's the talented lady behind DEW Concept store that will drive your love for shopping crazy. Jewel designer herself, Elina definitely knows how to impress you!
By Konstantinos Bougas
Living for so many years in Mykonos, do you feel more of a Mykonian now?
Absolutely! I'm working here for 11 years in a row but I use to come with my family and friends since I was little. I love the island, the locals and the way of living here, as well as the sacred light of this magic place. A part of me belongs here for sure!
What was your first job in Mykonos?
I was a partner manager in a jewellery store in 2006 until 2009 and that's how everything started. It was there that I was influenced and started making my own designs.
How did you start designing jewels?
At first I made small little pieces for me, things and symbols that I liked and I couldn't find in stores. My main idea was jewels I could wear all day long even in the sea so I mixed precious stones like diamonds with silk cords to make bracelets for example. My moto was -and still is- the jewel that you choose to wear should become a piece of you!
How do you feel designing your own jewellery line?
Back in the day when I was a TV presenter and worked in fashion, it couldn't even cross my mind that I would do anything else but that. Now after all these years I can't possible think of not doing it!
You've opened up you own store, DewMykonos. What is it about? What your customers can find there?
Well as I said I'm already 11 years here in Mykonos. I've worked for different jewellery stores and on my mind there was always the plan to open up my own. I couldn't have done it without my beloved friend and relative Aristi Sarra that she liked the idea and when we found the perfect LOCATION we said "let's go for it", this is how we became partners at DEW! Dew is a concept store that carries more than 30 different brands from all over the world, but also supports many Greek designers. From candles to jewels, bikinis and beachwear, leather bags and handmade hats, I guess is really interesting and intriguing for our clients. In Dew concept store you can find my own personal creations el-jewels of course.
Is Mykonos your ultimate source of inspiration?
Mostly yes, but I find inspiration in many things and different places. Summer time for example or beautiful women that I admire, other designers that I love their work etc.
Do you miss your career in television and modelling?
Sometimes yes! I had a great time and I was really lucky working back at 90's and early 00's, the "golden" years of fashion and TV. There is a saying… never look back, you're not going at that direction! So I love what I do now, keeping the TV and modeling days in my heart forever.
What is your favourite spot in Mykonos?
180 sunset bar. No words to describe the atmosphere, the view of the island from that spot, the good energy you get when you're there!
Malamatenias & Enopleon Dynameon, Chora, tel. 22890-28668
www.dewmykonos.com
Σχετικές αναρτήσεις
Η Πριγκίπισσα Αικατερίνη κοντά στα παιδιά της Στέγης Ανηλίκων Πειραιά «Καλός Ποιμένας»
Διεθνής Διαδικτυακή Επιστημονική Συνάντηση «Covid-19 and Childhood Cancer»
Το Ξενοδοχείο Μεγάλη Βρεταννία φωταγώγησε το χριστουγεννιάτικο δέντρο του! (videos)
Οι καινοτομίες ηλιακού φωτισμού της Signify… αλλάζουν τους Λειψούς
Το ίδρυμα «Μαριάννα Β. Βαρδινογιάννη» στέλνει το δικό του συμβολικό μήνυμα δημοκρατίας
NJV Athens Plaza – Βραβεύτηκε με το «The GIFTTS 2020 Pineapple Award»