Evangelos Tsoukalas: The gold thinker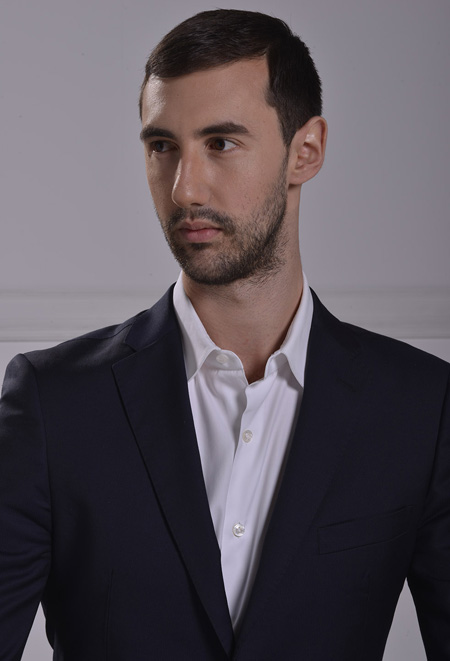 His love for jewellery was mapped in his DNA by his mother Rouli. A few years later it was Evangelos' turn to make our lives shinier. Exactly like the Mykonian sun!
By Konstantinos Bougas
How did you decide to become a jewellery designer?
Growing up in a world filled with jewellery and always finding myself at my mother's store (Anatol at Kifissia) I constantly came into contact with unique pieces of jewellery. The rare stones and shiny materials always grabbed my attention. As I grew older I visited the store to help out during the holidays and periods of intense work. I helped my mother and uncle come up with new designs till I finally decided to create my own lines. Since a very young age I used to make jewellery with beads and sell them to family and friends and the process of creating and selling my creations used to excite me just as much as it excites me now.
When was that turning point in your career, where you decided to create your own jewellery brand under the name Evans Collections?
Designing for me begun with the yearly good luck charms that we design for the new year. Back in college I used to design these lucky charms and e-mail them to my mother so that they can be produced for Christmas. Seeing that my designs had a great response, I kept designing small pieces for my mothers' stores the whole year round. Then in 2012 we began attending international shows and by 2015 I decided to finally make my own jewellery under my own name.
How do you feel that your beautiful designs have an international impact? People from all over the world are enjoying your jewellery… It is truly a remarkable feeling to know that your ideas, turned into jewellery are sold globally. It makes me proud and humble to know that people associate with my designs and that they choose to wear a piece from Evans Collections.
Haute joaillerie or street jewellery do you suggest for the summer of 2017?
Both categories have their powerful beauty and cannot be denied either. Depending on the occasion both can be worn. The wonderful chic, easy to wear "street jewelry" can be a piece that will capture your summer adventures and keep them with you in your memory forever. An haute joaillerie piece will make a statement at every outing and will make you rise above the status quo making each moment unforgettable. One thing is for sure, both pieces will be a part of you forever.
What excites your talent? Is Mykonos a place for inspiration?
I believe that inspiration lies in everything and any moment in life can be inspiring. For me the sea is my greatest source of inspiration, a place where I can connect with my thoughts and see clearly where I am heading to. Also people are a major source of inspiration, the different way the act, think and behave can really affect me when designing a new collection. For me Mykonos is definitely an inspiration hub, as it combines the best seas with the most interesting and intriguing people. My new collection "Myconian Blue" is inspired by the island itself and with the use of blue opals I have tried to capture the essence and the beauty of the island's sea.
What would be the perfect jewellery piece out of your collection for this season's Mykonos-goers?
Mykonos visitors can find my Olympus Collection at the brand new Nammos Village. My favorite and easy to wear piece for the summer is an Olympus Bracelet created with precious beads, gold beads and matched with a motif of your liking, varying from evil eyes to four leaf clovers, stars and many others. Also the brand new Myconian Blue Opal Evil Eye Necklace is definitely a statement piece for those daring to take a leap into the turquoise shallow waters of the island.
What is your favourite Mykonos spot?
Every beautiful corner of the island that the sun rises and sets upon. In such a magical place there cannot be one specific place to choose from but the sum of places, memories, smells and feelings keep on drawing me back to the island like a drug!
Info: evanscollections.com
Σχετικές αναρτήσεις
Η Πριγκίπισσα Αικατερίνη κοντά στα παιδιά της Στέγης Ανηλίκων Πειραιά «Καλός Ποιμένας»
Διεθνής Διαδικτυακή Επιστημονική Συνάντηση «Covid-19 and Childhood Cancer»
Το Ξενοδοχείο Μεγάλη Βρεταννία φωταγώγησε το χριστουγεννιάτικο δέντρο του! (videos)
Οι καινοτομίες ηλιακού φωτισμού της Signify… αλλάζουν τους Λειψούς
Το ίδρυμα «Μαριάννα Β. Βαρδινογιάννη» στέλνει το δικό του συμβολικό μήνυμα δημοκρατίας
NJV Athens Plaza – Βραβεύτηκε με το «The GIFTTS 2020 Pineapple Award»