Evangelos Tsoukalas: The sparkling designer
Κωνσταντίνος Μπουγάς 3 Αυγούστου 2018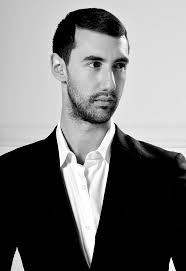 His jewellery label EVANS spreads love, good vibes and top aesthetics just like one of the island's he felt in love with. The answer is obvious… Mykonos!
By Konstantinos Bougas
What was the best advice your parents, Christos and Rouli Tsoukalas of Anatol, gave you when you started designing jewellery?
My mother always encouraged me to follow my instincts to create what I feel like and to envision my dreams, make them real through my jewellery. My father on the other hand, the voice of reason made sure I look at the trends and the customers' needs. He always stressed the point that I must set the customer at the heart of each design and build around her/his dreams. The truth for me lies somewhere in between, looking at the style of the time and the needs of the customers, giving them a touch of art and daring designs that can even alter their style to a new level. At the end of the day it's making both my dreams and the customers' dreams come true!
What were your first feelings when your own jewellery collection came out?
It was a peculiar feeling, something I had not felt before. I still remember the moment I picked up the first ring I had designed and looked at it. It took me a few minutes to realize how great the world of jewellery is, creative and filled with energy from the precious and semi precious stones. I must say that conceiving an idea, building it and finally seeing it come to life is an exciting process that makes my life filled with (as Jamie Oliver, one of my favourite chefs says) Happy, Happy Days!
How did you feel showcasing your work at the Museum of Arts and Design in New York last November? I guess it was some kind of gratification for you….
Standing behind my showcase on the 7th floor of the MAD Museum at Columbus Circle in New York City, I could feel the buzzing city below and its energy running through my body. It was a unique experience and I was lucky enough to share it with other talented Greek designer members of Jewel Made in Greece. Having your work displayed in one of the most dazzling cities is one thing, having people appreciate your work while making connections there is a whole other story. Let's not forget that if you can make it there, you can make it anywhere.
What do you consider the top moment of your career up to now?
When you do something you love so much you can't really pick a moment that makes you feel at the top. Every day I am lucky enough to wake up in the morning and find myself on top of the world, knowing that I am doing something I love and something that is related to love, everyone knows that a gift of jewellery is an act of love and eternity. What I am most proud of this year is having completed the GIA course for Diamonds, which was a true challenge! Learning about diamonds and getting to grade diamonds was quite the experience. A period of non stop complaining (he laughs) led to my deepest appreciation and love for the sparkly gifts of nature.
How did Mykonos win you over?
I truly believe that it wins over each and every heart that sets eyes on. It combines the utmost beauties of Greece together with the energy and thirst for entertainment. You can't beat a day at Mykonos and talking about its night life is trivial, the island has got it all, a perfect destination for those seeking the best!
If you could use just one of Mykonos' characteristics as a source of inspiration what would that be?
That's easy, it's incredible green, blue, turquoise waters are my greatest source of inspiration and my happy place. Just dive in and feel your body fill with ideas…
What is the perfect jewellery piece out of your collection for summer 2018?
This year will have to say the new Olympus Collection evil eye chocker necklace along with its matching bracelet. I am kind of obsessed and when I see it being worn it's just the biggest treat!
Info: evanscollections.com
Σχετικές αναρτήσεις
Λαμπερό Opening Event για τη boutique Themis•Z
Two-sided paradise
Chris Athanasiadis: Cuisine's hierarch
Nice n easy organic sea food
Nesaea: Γεύση… μυθική
"Υψηλή" μόδα στη Μύκονο