Olga Zarifopoulou, The golden side of Psarrou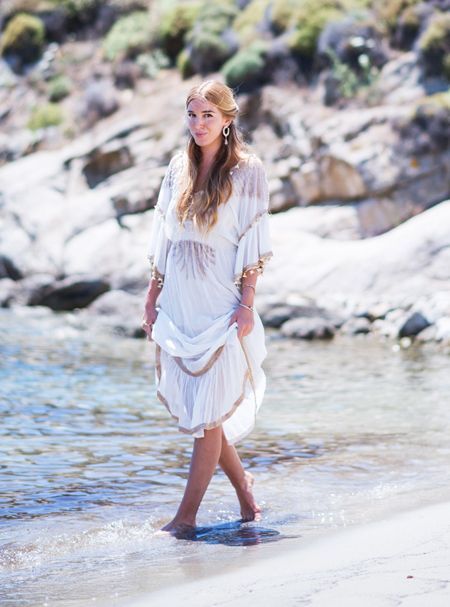 She's not by chance an architect. Her fab collections at Ozar Jewels combine her studies with her art, creating some of the most beautiful jewellery you have ever seen.
By Konstantinos Bougas
Jewel designer, architect, shop owner, Mykonos-lover… what defines you the best?
Well, I think I am a combination of all. Each one is a part inside of me and all together define who I am in a different way. The best of all is to be a friend, to be loved, to have people that inspire you to become better in your life and career. I have to be a successful jewel designer during the winter while travelling and hunting stones, an architect to design my boutiques, a good shop owner to organize and sell well. As for the Mykonos-lover, I was born one, since I have spent all the summers in my life on this island.
Is there a special piece of your jewels that includes the whole spirit of Mykonos?
We have worked a lot to get a Mykonos Collection with statement pieces that represent the island. It's not easy, as we always want to be unique. This year we have presented the "Windmill Earrings", in a 10 pieces limited edition.
What is your top piece for the summer of 2017?
The top piece for summer 2017 is the "Ventalia Earrings". It has something exotic, a Greek aura because of the colours we have used. All of my elegant ladies love it! Also, the aquamarine and blue topaz are the must of the season and our best sellers.
Why do you think Ozar became so successful?
Ozar has an amazing energy as a brand, because it brings the best out of you. You can eventually buy everything from our jewellery store. It's a state of mind and an exceptional project that makes girls feel so special. You can always be sparkly and beautiful while wearing Ozar, and I am sure that's the reason of its big success.
What different has to offer your wonderful boutique at Psarrou this summer?
Ozar Boutique is now bigger in size giving us the opportunity to offer more designs for every taste, and an extra touch of luxury. Last season we had a bit of an experiment with our collection and the needs of our clients. So this year we have everything they asked for at our main store in Mykonos. For us, it is a big challenge to be the first on this field, with all the competition around. We have started with semi-precious stones and people loved so much our designs, that some have been custom-made in gold as well.
What is your favourite spot in Mykonos?
My favourite spot is my house and then Spilia Restaurant. It's the perfection! Having a fresh seafood lunch inside a cave, in front of the sea… So Greek. I love it!
Nammos, Psarrou beach, Mykonos
www.facebook.com/ozarjewels
www.ozarjewels.com
Σχετικές αναρτήσεις
Lifeline Hellas – MASQUERADE GALA!
Τα Παιδιά της Στέγης Ανηλίκων Πειραιά «ΚΑΛΟΣ ΠΟΙΜΕΝΑΣ» για έκτη συνεχή χρόνια στο Santa Claus Kingdom!
Στο Tudor Hall Restaurant πραγματοποιήθηκε το καθιερωμένο χριστουγεννιάτικο γεύμα των Ξενοδοχείων Μεγάλη Βρεταννία και King George!
Το Ξενοδοχείο Μεγάλη Βρεταννία γιόρτασε την έναρξη της εορταστικής περιόδου με τη φωταγώγηση του Χριστουγεννιάτικου Δέντρου!
Το εικαστικό αριστούργημα μέσα στο εκκλησάκι του Αγίου Δημητρίου στο Kalesma Mykonos αποτελεί μια ωδή στη βυζαντινή κληρονομιά!
Φαντασμαγορική εκδήλωση από τον Οίκο DIOR για την παρουσίαση του νέου καινοτόμου αρώματος J'adore Parfum d'Eau!