K-studio architects
DELUXE Magazine 22 Ιουλίου 2016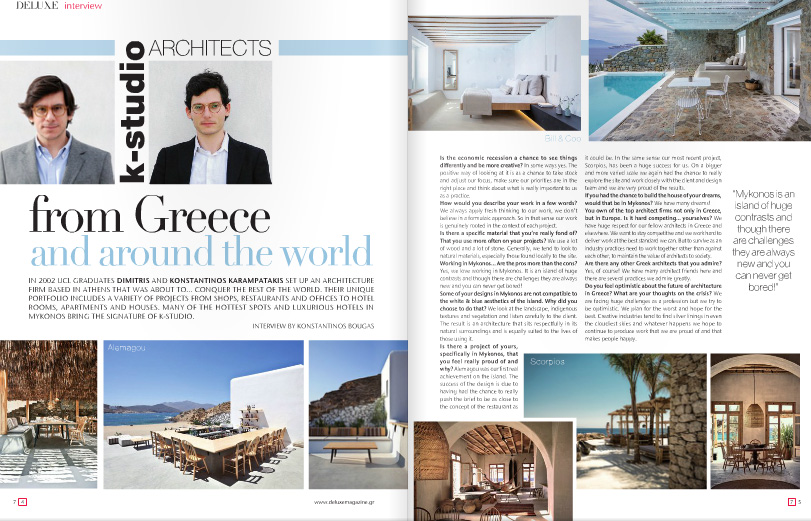 In 2002 UCL graduates Dimitris and Konstantinos Karampatakis set up an architecture firm based in Athens that was about to… conquer the rest of the world.
Their unique portfolio includes a variety of projects from shops, restaurants and offices to hotel rooms, apartments and houses. Many of the hottest spots and luxurious hotels in Mykonos bring the signature of K-studio.
Interview by Konstantinos Bougas
Is the economic recession a chance to see things differently and be more creative?
In some ways yes. The positive way of looking at it is as a chance to take stock and adjust our focus, make sure our priorities are in the right place and think about what is really important to us as a practice.
How would you describe your work in a few words?
We always apply fresh thinking to our work, we don't believe in a formulaic approach. So in that sense our work is genuinely rooted in the context of each project.
Is there a specific material that you're really fond of? That you use more often on your projects?
We use a lot of wood and a lot of stone. Generally, we tend to look to natural materials, especially those found locally to the site.
Working in Mykonos… Are the pros more than the cons?
Yes, we love working in Mykonos. It is an island of huge contrasts and though there are challenges they are always new and you can never get bored!
Some of your designs in Mykonos are not compatible to the white & blue aesthetics of the island. Why did you choose to do that?
We look at the landscape, indigenous textures and vegetation and listen carefully to the client. The result is an architecture that sits respectfully in its natural surroundings and is equally suited to the lives of those using it.
Is there a project of yours, specifically in Mykonos, that you feel really proud of and why?
Alemagou was our first real achievement on the island. The success of the design is due to having had the chance to really push the brief to be as close to the concept of the restaurant as it could be. In the same sense our most recent project, Scorpios, has been a huge success for us. On a bigger and more varied scale we again had the chance to really explore the site and work closely with the client and design team and we are very proud of the results.
If you had the chance to build the house of your dreams, would that be in Mykonos?
We have many dreams!
You own of the top architect firms not only in Greece, but in Europe. Is it hard competing… yourselves?
We have huge respect for our fellow architects in Greece and elsewhere. We want to stay competitive and we work hard to deliver work at the best standard we can. But to survive as an industry practices need to work together rather than against each other, to maintain the value of architects to society.
Are there any other Greek architects that you admire?
Yes, of course! We have many architect friends here and there are several practices we admire greatly.
Do you feel optimistic about the future of architecture in Greece? What are your thoughts on the crisis?
We are facing huge challenges as a profession but we try to be optimistic. We plan for the worst and hope for the best. Creative industries tend to find silver linings in even the cloudiest skies and whatever happens we hope to continue to produce work that we are proud of and that makes people happy.
Σχετικές αναρτήσεις
Λαμπερά εγκαίνια στο ολοκαίνουριο κατάστημα Georg Jensen στο Golden Hall!
So festive! Η Μαίρη Συνατσάκη παρουσίασε τη νέα συλλογή Mairiboo for Envie
Η Μαριάννα Β. Βαρδινογιάννη συνάντησε τον Πάπα Φραγκίσκο
Κωνσταντίνος Τσονόπουλος: «Να αποδεχόμαστε και να αγκαλιάζουμε το διαφορετικό. Να χτίζουμε σχέσεις αγάπης»
Fashion launch – Η Tommy Hilfiger παρουσίασε το e-shop tommy.com στην Ελλάδα
Marina Raphael – Το πρώτο pop-up store είναι γεγονός!