Al Giga
DELUXE Magazine 12 Ιουλίου 2016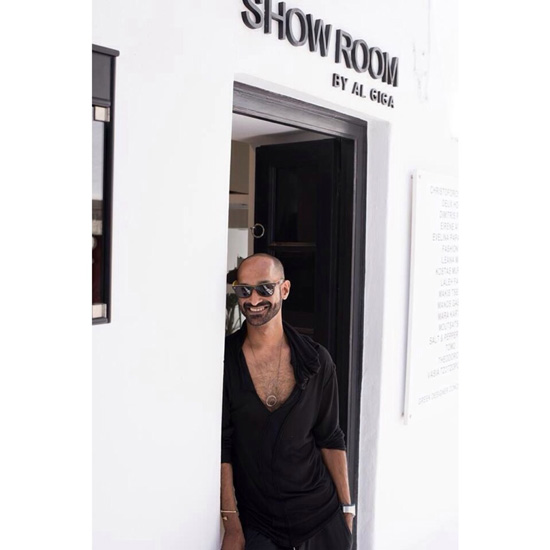 He came to Greece 20 years ago and fell in love with the country, the people and –of course- the fashion. After working for many years at the biggest fashion magazines, celebs' favorite stylist with plenty of love and care, opened his own Show Room hosting Greece's best fashion designers. This shop is the new… diamond of Mykonos, where Greek design and fabulous aesthetics dominate, including exclusive fashion pieces that you can find nowhere else.
Interview by Christina Zafeirouli
Why did you decide to promote Greek designers and fashion?
I truly believe in Greek designers. I've known them all those years I worked in magazines and I believe they have a big amount of talent, creativity and quality. They own a high level of aesthetics. This is also one of the reason's I set up the Show Room, to create a valuable space that can accommodate these designers, with the right environment to show off their work. So this reason, that we have very strong names. We have Greek designers from around the world, not only local ones. We represent Ileana Makri, which is very big name. They have the biggest stores in the world and many celebrities choose her jewelry. We represent Costas Murkudis who comes from Italy – he's a German-Italian designer who has worked for Helmut Lang for a very long time and whose clothes are made in Italy. We represent Christophoros Kotentos who produces his clothes in the USA. We have strong names that create strong pieces. I believe that through those difficult times we have to support our own people. In the Showroom, that is located in a new neighborhood, for some the new hot spot of Mykonos, close to Katrina, one can find from t-shirts and swimwear to expensive diamonds. Everything created from Greek designers. Every piece in the shop is chosen personally by me in collaboration with the designers. We select and design each piece especially for the shop in Mykonos. You can find extraordinary pieces in the shop that are made exclusively for Mykonos and often for Greece. You can also find my first unisex signature eau de parfum 01, dedicated to Mykonos.
Do you think that Greece, under this crisis, still has the talent and the will to create beautiful designer pieces?
I personally believe that through the crisis we can find many opportunities. In difficult circumstances we are given the opportunity to create new things. This was one of the reasons that I've opened up the Show Room in such a difficult period. I decided to support and promote Greek designers abroad, since most of our clients are foreigners.
Who would you consider the best Greek fashion designer at the moment?
My favorite designers and who also do well are Dimitris Petrou and Christophoros Kotentos. Very big names with strong patterns and pieces that our customers' prefer.
Is it mainly Greeks or tourists that shop from your Showroom?
Greek costumers do not shop a lot, although they are well dressed. They tend to underestimate Greek designers. They have a tendency for foreign brands and, unfortunately do not support Greek ones. Actually only 5% of our costumers are Greeks. Most of are Germans, Swiss, Americans or from the Arab countries. Germans and Swiss are our best customers, because they appreciate good clothing and are not so much interested in whether it is Greek or not. It is the design and the quality they are looking for.
What attracts you most in Mykonos?
Mykonos is a global place. A lot of people pass by. It's still like "Dolce Vita", it's like being in another country here. You see every important people in the fashion industry. Yesterday Jean-Claude Jitrois was shopping from here, so did Peter Dundas from Emilio Pucci and the designer of Celine a year ago. We allo had the vice president of Fendi. These are the people that visit Mykonos, these are our costumers, but also all top models, in fact the whole world of fashion. It is still a place visited by the global Jet set. When you're in Mykonos you do not understand the crisis of the rest of Greece. In Mykonos you do not hear anyone talking about lack of money People do not even know the subject.
Σχετικές αναρτήσεις
Φαντασμαγορική εκδήλωση από τον Οίκο DIOR για την παρουσίαση του νέου καινοτόμου αρώματος J'adore Parfum d'Eau!
Press Dinner υπό το φως της Ακρόπολης από την BOLD by Angelique Tsanis!
Fashion TV World's Excellence Gala – 25 ΧΡΟΝΙΑ ΓΚΑΛΑ!
Μαρινέλλα – «Μύθος για πάντα» – Μια μοναδική συναυλία σε ένα κατάμεστο Ηρώδειο!
ΚΑΛΑΜΟΣ – ALEKOS RESTAURANT – Dinner Party με οικοδέσποινα τη Σίσσυ Παπαγεωργίου!
H Πριγκίπισσα Αικατερίνη και το Lifeline Hellas προσέφεραν σπουδαία δωρεά στο Νοσοκομείο «ΕΛΕΝΑ ΒΕΝΙΖΕΛΟΥ»!