Paolina Diamantouli
DELUXE Magazine 12 Ιουλίου 2016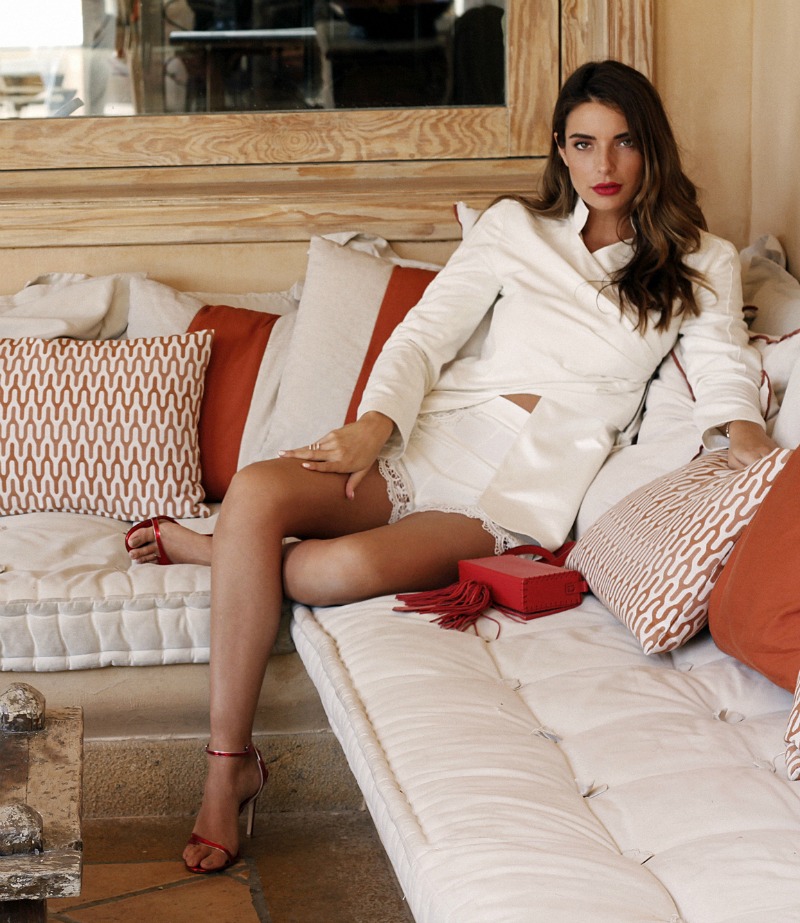 With an unspeakable beauty, positive mood and an insatiable appetite for work, Paolina Diamantouli attracts all eyes on her the last couple of years. She has been modeling for huge brands such as Salvatore Ferragamo, L' Oréal and Kessaris and her next modeling steps in Greece and abroad are expected to be really impressive. The unstoppable Paolina offered at her family business in Mykonos from a really young age, Kalua Mykonos, where she was socializing with the biggest stars and of course, ceased all the chances she was given. Inspired by all these, she studied Musical Dance in London and completed a Public Relations course here in Greece while planning her next steps in fashion.
Interview by Maria Sagana
• You are a multitasking person. As a kid, what did you really want to be when you grow up?
Since I can remember myself, I always wanted to be a dancer or a model. These were my dreams and I was lucky enough to study in London dance and also build my carrier as a model.
• Who would you most like to meet and work with as a model?
I would love to work in NY City with the very famous photographer that shoots many Victoria's Secret models. His name is Russel James. I have so much respect for his work. He is incredible.
• How much helpful was being part of a family business?
It was very easy for me, I get to meet famous, intelligent, respectful people from all over the world. This interaction with people means a lot to me, because you will never know what opportunities you may get from these meetings. Our family business in for over 30 years a success, my brother has all these new, fresh ideas from travelling all over the world, and he had done an amazing job, the last ten years in Mykonos.
• What was the best advice your parents gave you?
Always stay humble.
• How do you see yourself in the future? Fashion or business?
I have no idea yet. I want to do and try so many things before I decide what I really want. I am "greedy" for new experiences.
• What makes Mykonos such an important brand?
Mykonos is a traditional island, which has kept its beliefs. It has grown throughout the years. So many people all around the world come and visit our beautiful island. Mykonos is an island that you can party like crazy, but also you have all these amazing beaches, with the transparent, blue-green water. Mykonos is the place to be in the summer time.
• You travel a lot, what is your favorite place on earth?
Paris, Amanpulo in the Phillipines. These two places are my favorite in the whole world. As Audrey Hepburn said "Paris is always a good idea". In addition, Amanpulo resort is like heaven on earth.
Σχετικές αναρτήσεις
Φαντασμαγορική εκδήλωση από τον Οίκο DIOR για την παρουσίαση του νέου καινοτόμου αρώματος J'adore Parfum d'Eau!
Press Dinner υπό το φως της Ακρόπολης από την BOLD by Angelique Tsanis!
Fashion TV World's Excellence Gala – 25 ΧΡΟΝΙΑ ΓΚΑΛΑ!
Μαρινέλλα – «Μύθος για πάντα» – Μια μοναδική συναυλία σε ένα κατάμεστο Ηρώδειο!
ΚΑΛΑΜΟΣ – ALEKOS RESTAURANT – Dinner Party με οικοδέσποινα τη Σίσσυ Παπαγεωργίου!
H Πριγκίπισσα Αικατερίνη και το Lifeline Hellas προσέφεραν σπουδαία δωρεά στο Νοσοκομείο «ΕΛΕΝΑ ΒΕΝΙΖΕΛΟΥ»!